Home / News & Media / eVISO among the italian "Champions of Growth" (I Campioni della Crescita )
eVISO among the italian "Champions of Growth" (I Campioni della Crescita )
The ranking of the 800 companies with the fastest revenue growth over the three-year period 2018-2021
news 10 November 2022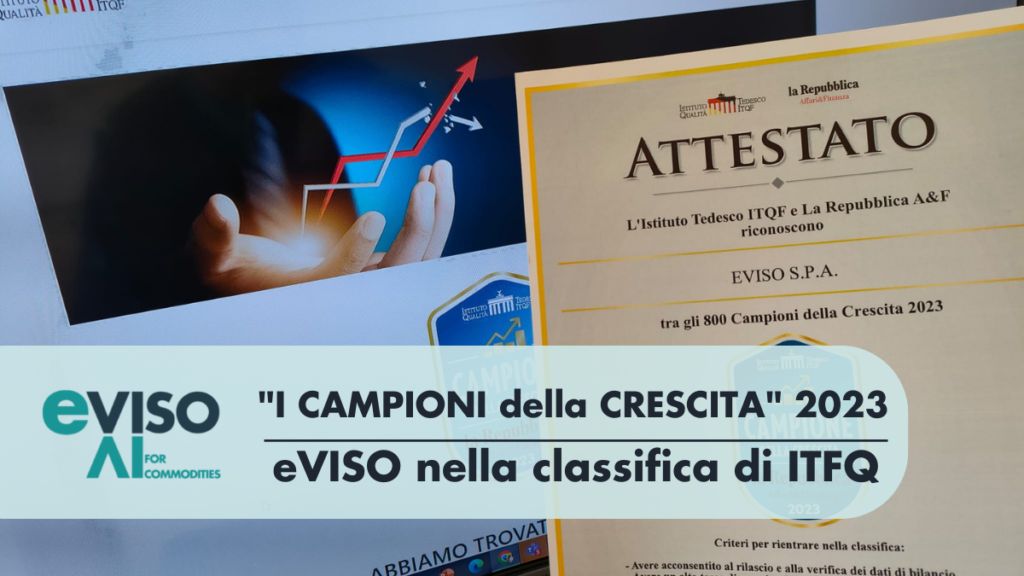 For the second year in a row, eVISO SpA is among "I Campioni della Crescita" ("The Champions of Growth") the special ranking prepared by the German Institute for Quality and Finance (ITQF) and published by the prestigious Italian newspaper "La Repubblica" in its edition of Monday, November 7, 2022 (HERE you can read the related article), which selected 800 companies-drivers of recovery based on their average annual growth over the three-year period 2018-2021*.
This is the fifth edition of a survey that rewards excellence in the Italian economy.
Indeed, to enter the ranking, it is necessary to show an average annual growth rate of more than 11.3 percent over the three-year period under consideration.
The Saluzzo company recorded an average annual growth rate of 30.96 percent, rising over three years from 33,711,000 euros to 75,712,000 euros in turnover, placing it in 348th place in this special ranking.
Results from the province of Cuneo and Piedmont.
There are about 50 companies from Piedmont in the ranking of Italy's 800, with eVISO ranking first in terms of turnover achieved in 2021 among companies from Cuneo, finding itself among the top 5 in Piedmont.
Other companies with the highest growth rate based in the Cuneo area include the excellent results of Movimatica Srl (Merlo Group), Team Work Srl, a company from Alba in the transportation sector, and Geatop SRL (also based in Saluzzo).
Congratulations to all the 800 firm in the ranking!
*Methodological note taken from the publication.
The growth rate calculation is based on the turnover data reported and confirmed by the candidate companies. The sample list is compiled based on average annual growth, the so-called compound annual growth rate, more commonly known as CAGR from the Anglo-Saxon acronym Compounded Average Growth Rate (CAGR):
CAGR = (sales 2021 / sales 2018)1/3 – 1