Home / News & Media / eVISO participates in the "States General of Artificial Intelligence"
eVISO participates in the "States General of Artificial Intelligence"
Gianfranco Sorasio will be one of the speakers on Wednesday, March 1 at 11 a.m.
news 27 February 2023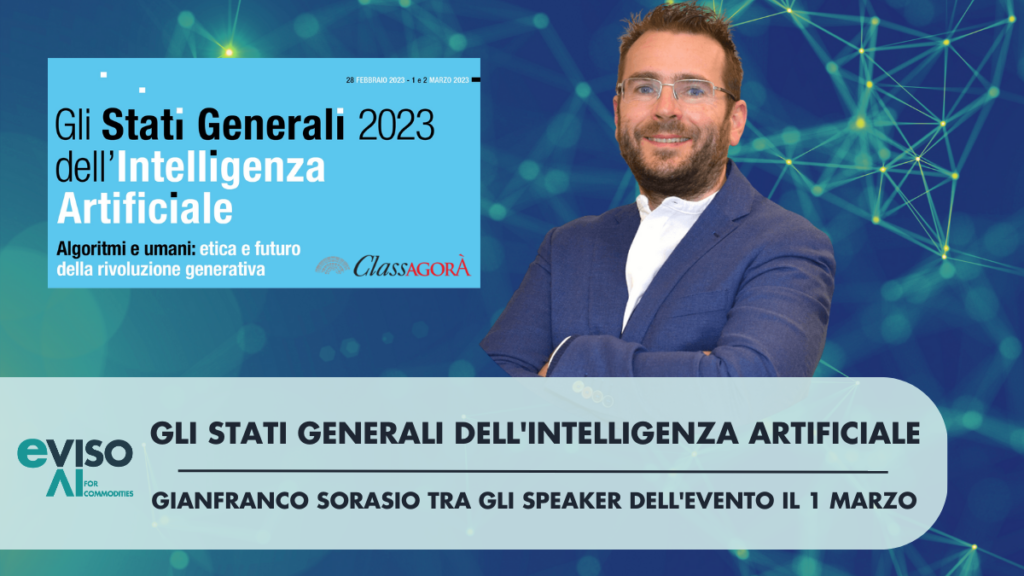 Milan – Three days of conferences, interviews, debates, visions, and predictions to talk about Artificial Intelligence: these are "The General States of Artificial Intelligence 2023 – Human algorithms, ethics, and the future of the generative revolution," an event organized by Class Editori that will take place from February 28 to March 2 in Milan and live online around the world, bringing together international protagonists of the most advanced form of innovation: AI.
eVISO is a partner of the initiative, and on Tuesday, March 1, during the day entitled "Working, Consuming, and Living with Intelligence," CEO Gianfranco Sorasio will be one of the speakers at the meeting on "Energy management and ecological transition: AI improves the entire sector supply chain," which will start at 11:00 AM.
In the same space, interventions are planned by
Alessandra Fidanzi, Head of Digital Center of Excellence di Eni
Giuseppe Amoroso, Head of Digital Strategy and Governance di Enel
Irene Sardellitti, Head of Architecture, Digital & AI presso Snam
Marco Pietrucci, Head of Innovation di Terna.
eVISO is a digital company that uses its proprietary Artificial Intelligence platform to create value for recurring users of raw materials, and during the event, Gianfranco Sorasio will explain the vision and opportunities related to the energy and commodities sector, emphasizing how "Artificial Intelligence requires technology but also a change in Governance: it expresses its full potential in complex scenarios, such as those of raw materials, where there is strong volatility and many causes that can determine difficult-to-predict scenarios."
The event, now in its second edition, covers ethics, science, technology, and projects. Discussions will cover Big Data, algorithms, cybersecurity, machine learning, robotics, metaverse, industry, chatbots, blockchain, information, and education and will be visible live on ClassCnbc (Sky 507), milanofinanza.it, and italiaoggi.it.
Register here to watch : https://www.classagora.it/registrazione-evento/147