20 February 2023
Saluzzo (CN), 20 February 2023 – eVISO S.p.A. (symbol: EVS.MI) – a digital company, listed on the EGM, with a proprietary artificial intelligence infrastructure operating in the commodities sector (electricity, gas, apples) – in response to some requests received during the conference call to present the preliminary unaudited half-year results as of 31 December 2022 (press release of 15 February 2023), shares the following details on the Net Financial Position.
The Net Financial Position as at 31 December 2022, net of security deposits receivable from institutional suppliers (amounting to € 6.2 million as of 31 December 2022 compared to € 4.2 million as of 30 June 2022), was negative by € 4.0 million compared to a positive cash position of € 8.1 million (also net of security deposits receivable from suppliers) as of 30 June 2022, the closing date of the 2021/2022 fiscal year.
For ease of reading, the graph below represents the Net Financial Position in positive terms in the case of higher cash and negative terms in the case of higher debt.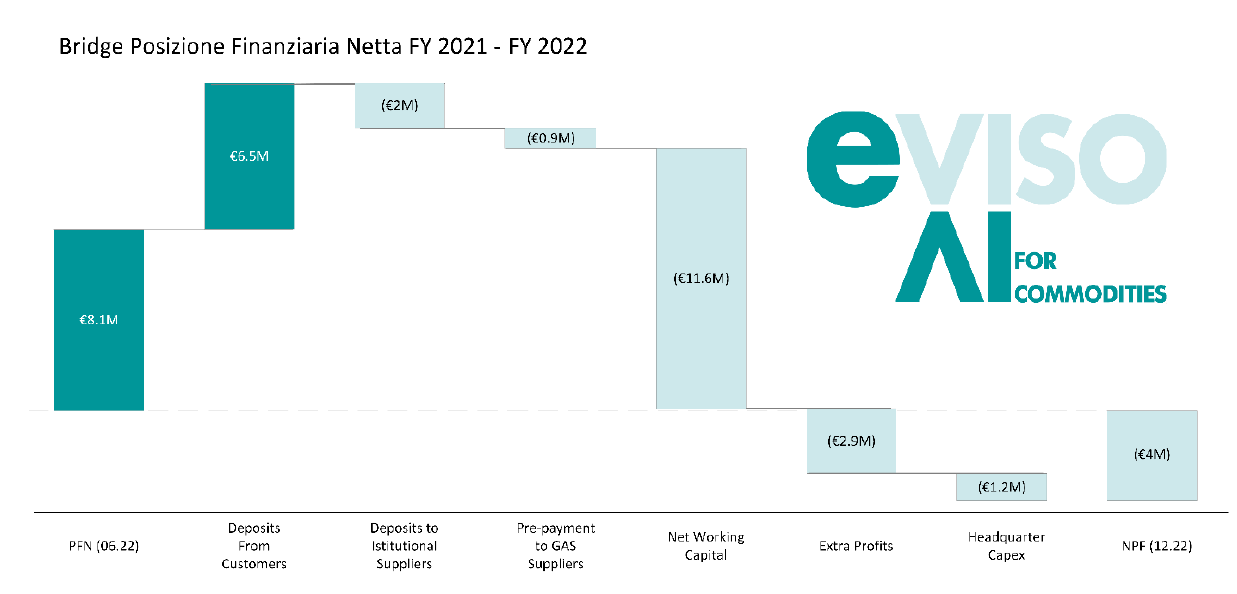 The reduction in net working capital, amounting to € 11.6 million, is due to the following two reasons:
€5.5 million, due to an extraordinary and temporary trend occurred in the month of December 2022 in which, unlike previous years, the price of energy was high at the beginning of the month (€382/MWh on 01.12), and lower at the end of the month (€193/MWh on 31.12). As a result, the weekly cycle of energy payments to institutional suppliers led to a timing difference of € -5.5 million at the end of the month.
€ 6.1 million due mainly to the increase in trade receivables for the direct and reseller channels in the amount of € 4.7 million, the change in payment terms for Terna's load profiling items, and higher personnel costs as a result of structural investments.
The change in the Net Financial Position was also negatively influenced by the following items:
payment of the extraordinary and tax non-deductible "contribution on extra-profits" in the amount of € 2.9 million
payment of € 0.9 million as advances on gas supplies;
expenses for the construction of the new headquarters in the amount of €1.2 million; payments to institutional suppliers, in addition to those already disbursed as at 30.06.2022, in the amount of €2.0 million.
Finally, eVISO customers made additional deposits in addition to the existing ones as at 30.06 in the amount of € 6.5 million.
***
This press release is available in the Investor Relations section of www.eviso.ai.
For the transmission of Regulated Information, the Company uses the EMARKET SDIR dissemination system available at www.emarketstorage.com, managed by Teleborsa S.r.l. – with headquarters in Piazza di Priscilla, 4 – Rome – following the authorization and CONSOB resolutions no. 22517 and 22518 of 23 November 2022.