22 March 2022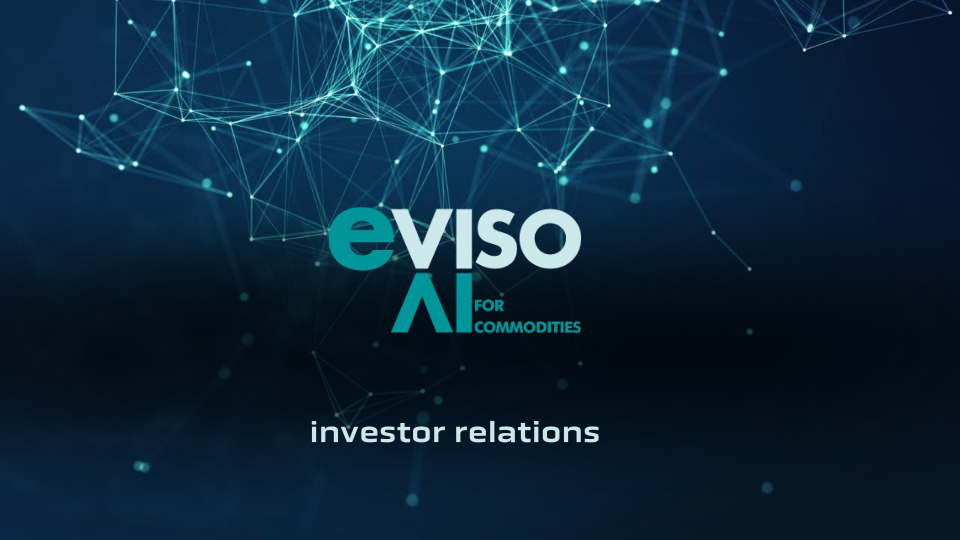 Strong increase in terms of users and volumes for all commodities traded. The number of users served in the electricity commodity rises to 139,000 (+406% YOY), the energy delivered to 342 MWh (+90% YOY)
---
Revenues € 99.1 million, +222% YoY
Value of production € 99.8 million, +218% YoY
EBITDA[1] € 1.8 million, up +62% YoY (EBITDA margin at 1.9%)
Net result almost tripled to € 0.6 million compared to € 0.2 million in first half 2021
Favourable cash flow with Net Financial Position (cash) at € 5 million compared to € 7.5 million as at 30 June 2021 and € 7.9 million as at 31 December 2020
DOWNLOAD THE FULL ENGLISH VERSION
Saluzzo (CN), 22 March 2022 – eVISO S.p.A. (EVS.MI) – an EGM-listed digital company with a proprietary artificial intelligence infrastructure that creates value for recurring consumers and producers of raw materials – announces that today the Company's Board of Directors reviewed and approved the Half-Year Report as of December 31, 2021, prepared in accordance with Euronext Growth Milan Issuers' Regulations and in compliance with Italian accounting standards.
eVISO's growth accelerated and in the first half of July-December 2021 the company reported revenues of € 99.1 million, up 222% compared to the same period last year. Energy delivered to resellers increased by 259% and energy delivered to the direct channel by 12%. Revenues from ancillary services and big data rose by 178%. The number of files invoiced increased by +273% to over 8,600. EBITDA went up by 62% to 1.8 M€. Net profit climbed by 166% to 0.6 M€.
The phenomenon of high energy prices, which characterised the last six months, was partly mitigated by government support for end users. The most significant impact was in the electricity sector, where the average turnover per MWh increased to around €260/MWh, approximately +70% compared to the same half of 2020.
Gianfranco Sorasio, CEO of eVISO, commented: "The results for the half-year period to 31 December 2021 provide us with a very satisfactory picture of the company's operations. The numbers show that eVISO's business model is competitive, fast and scalable. Thanks to its proprietary digital infrastructure, eVISO produces more than 30 million forecasts per day, based which it corrects and modifies its market offers to better manage fluctuations in commodity prices, giving its customers full control over consumption and the ability to predict future cost trends, guaranteeing growth, stability and solidity for its stakeholders. Today, the use of Artificial Intelligence in the commodities segment is still unchartered territory, and the bullish environment of commodity prices surrounding the national and international economies favours our value positioning; therefore, today we are more than ready to seize the opportunities for growth that the economic environment will offer".
[1] EBITDA: Alternative Performance Indicator: EBITDA (Earnings Before Interest Taxes Depreciations and Amortizations – Gross Operating Margin) represents an alternative performance indicator not defined by Italian accounting principles, but used by the management of the company to monitor and evaluate its operating performance, as it is not affected by the volatility deriving from differences in the criteria used to determine taxable income, by the amount and characteristics of the capital employed and by the relevant depreciation policies.
This indicator is defined for eVISO as Profit/(Loss) for the period, gross of depreciation, write-downs of tangible and intangible assets, financial income and charges and income taxes.